Jan - 30
2021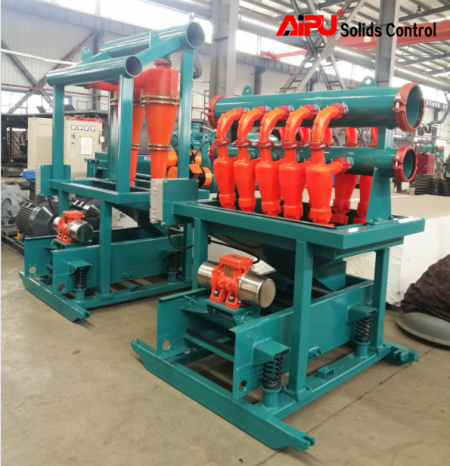 100% Polyurethane Clamp Type Efficient Drilling Fluids Mud Desilter From Aipu Solids Control For Easy Maintenance
Summary of APCN drilling fluids desilter
According to clients' treating capacity, we can choose the number of cones. At present, APCN series desilter is widely used in oil & gas drilling, horizontal directional drilling, coal bed methane drilling, bored piling, tunnel construction, etc.
Desilter is the third phase solids control equipment to handle the drilling fluids. Generally, there are a set of hydrocyclones in 4" or 6" in the desilter, which mainly used for separating the solid particles sized in 15~47μm from the drilling fluids. The desilter cleaner mainly consists of shale shaker, hydrocyclones, distribution manifold, and electric control cabinet and desilter removes the solid particles from the drilling fluids which cannot be removed by shale shaker and desander
Drilling fluids dedilter configuration
Drilling fluids desilter is the third phase solids control equipments after shale shaker and desander equipments. It is made by desilter cyclone, inlet and outlet pipeline, steel frame and shale shaker for bottom drying.

The desilter is mainly treat drilling mud by desilter cyclone by centrifugal force. It is popularly use 4" desilter cyclone for separate solids 15 – 25 microns and above, the majority larger solids particles was separated by centrifugal force and drop out from desilter nozzle and fluids content overflow from top outlet and discharge to tank compartment. There maybe a set of shale shaker on bottom of desilter cyclone, it is installed in finner mesh screen for drying solids particles out of cyclone. The mesh size choose from API 140 to API 325 depending on drilling requirement. The desilter mud flow can be 500GPM to 1500GPM depending on cyclone quantity.
Application of drilling fluids desilter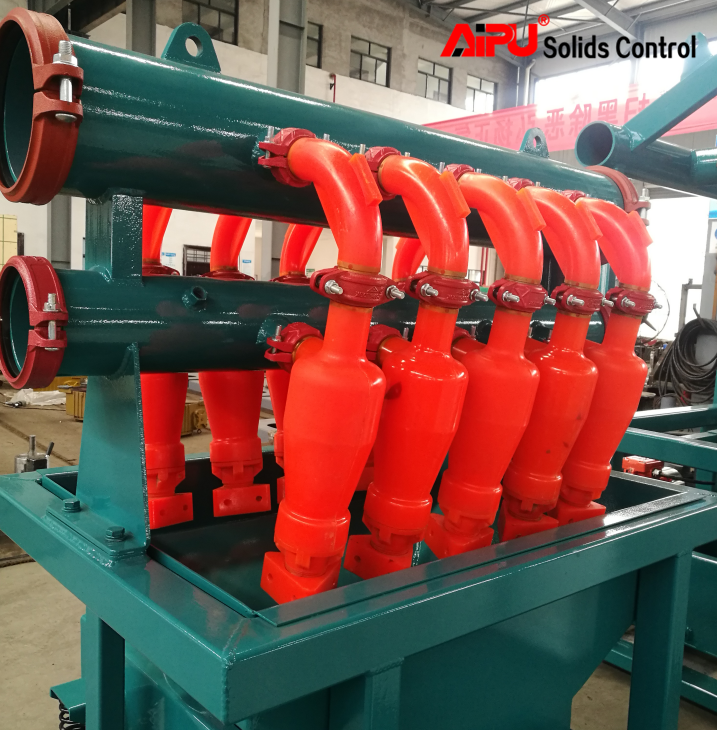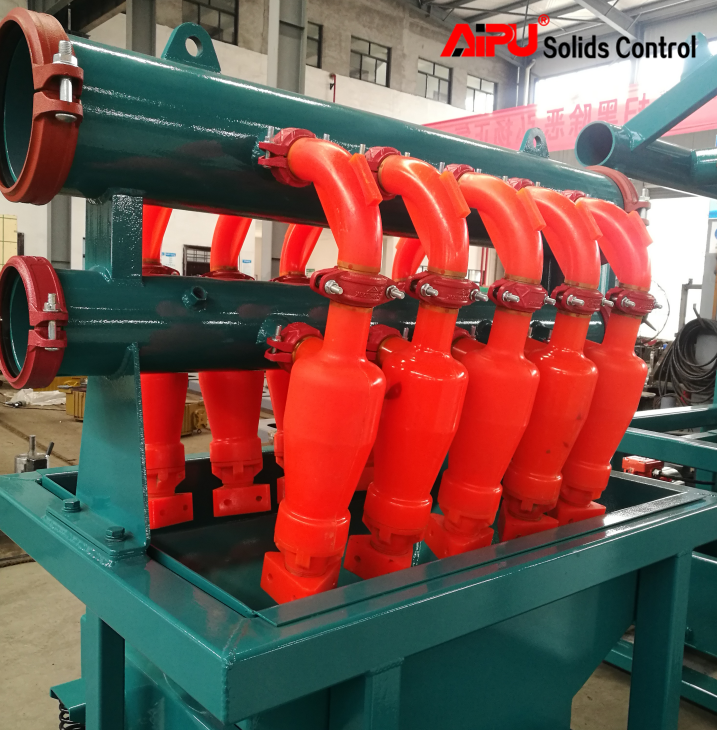 APCN series desilter is the third phase solids control equipments in well drilling mud system
Drilling fluids desilter separators are one of the important equipment of controlling the solids in the drill fluid. The action is to remove the harmful solids, promote the drill fluid performance and separate 15~47 μm solids particles accounting for over 60% of solids quantity.When the quick drilling is made in the soft formation, the shale shaker only can remove large solids particles, but the Hydrocylone Desilter separators can remove fine solids particles, fully promoting the solids control efficiency. Therefore, it is especially suitable for the well site where the formation is considerable hard and the drilling speed is slower so that the cuttings is very fine in particle size.
As different treating capacity , you can choose the number of cyclone . Normally speaking , 8 no. of cyclone is availeble , and you can choose 10 , 12 , 14, 16, 18, 20 according to your requirement.
Features of APCN drilling fluids desilter
Clamp type for easy maintenance.
Flexible fast connection is available for user assembly.
100% Polyurethane ( PU ) material to make desilter cones for longer lifespan.
Compact design with small footprint.
Flexible options for 8, 10, 12, 16 or 20 pieces of 4″ or 5″ cones for different capacities.
Drilling fluids desilter for drilling mud
We are a China exporter of desilter and desander equipments for Indian, Russian,middle east.etc.Choose us as desilter supplier.Our factory and company are Quality Management System ISO 9001-2000 certified.Aipu Solids Control operate international oil gas drilling mud separation system sales,service,manufacturing,distribution serivce.Buy desilter from China manufacturer Aipu,good quality,best price.Your best hydrocyclone desilter for drilling mud circulation system. If you have any demand, please feel free to contact AIPU