May - 08
2021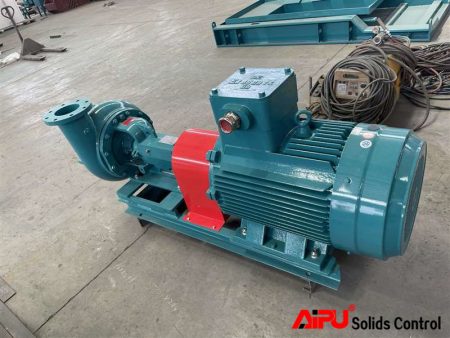 APSB8x6 Centrifugal Pump With 75KW Motor Certified By ATEX
14" impeller centrifugal pump with 75KW motor certified by ATEX
Centrifugal pump information
Centrifugal pump is also called sand pump. We all know that centrifugal pump play an important role in the mud solids control system of drilling platforms. Supply slurry for dedander and desilter, provide power for mixing equipment, etc
Centrifugal pump is one of important equipment in solids control system. With double seal design, strict foundry technology to ensure the stable performance and low failure rate; double seal with filling and mechanical, better seal result and long use life; double lubricating bearings ensures long-term operation of the pump and low maintenance costs. Part of pump spares can be interchangeable with Mission, universal use and convenient maintenance.
Application and result of centrifugal pump
The centrifugal pump mainly used to transport drilling fluids in the solids control system. The pump can be used as charging pump for mud desander and desilter, or mixing pump for jet mud mixer. It also can be a filling pump for drilling rig mud pump.
The sand pump transports the drilling fluid containing particles at a certain pressure and flow rate to meet the feeding requirements of next equipment.
Technical parameters of APSB8X6-14
| | | | | | |
| --- | --- | --- | --- | --- | --- |
| Model | Flow rate | Head | Power | Speed | Efficiency |
| APSB8X6-14 | 320m³/h | 40m | 75kw | 1480rpm | 65% |
techinical paremeters
Above technical specification for your reference.We can also customize production according to the actual demands of customers.
Features and benefits of centrifugal pump
¤ Semi-open impeller design, high efficiency and flow

¤ Combined seal with mechanical and packing, good perfermance and low maintenance cost

¤ Pump with high quality iron material, and impeller with high chromium alloy, long use life

¤ Stable operation and low noise

¤ Parts can be intechangeable with Mission, universal use

¤ Famous brand motor, safety and efficiency
How centrifugal pump works
Like most pumps, a centrifugal pump converts rotational energy, often from a motor, to energy in a moving fluid. A portion of the energy goes into kinetic energy of the fluid. Fluid enters axially through eye of the casing, is caught up in the impeller blades, and is whirled tangentially and radially outward until it leaves through all circumferential parts of the impeller into the diffuser part of the casing. The fluid gains both velocity and pressure while passing through the impeller. The doughnut-shaped diffuser, or scroll, section of the casing decelerates the flow and further increases the pressure.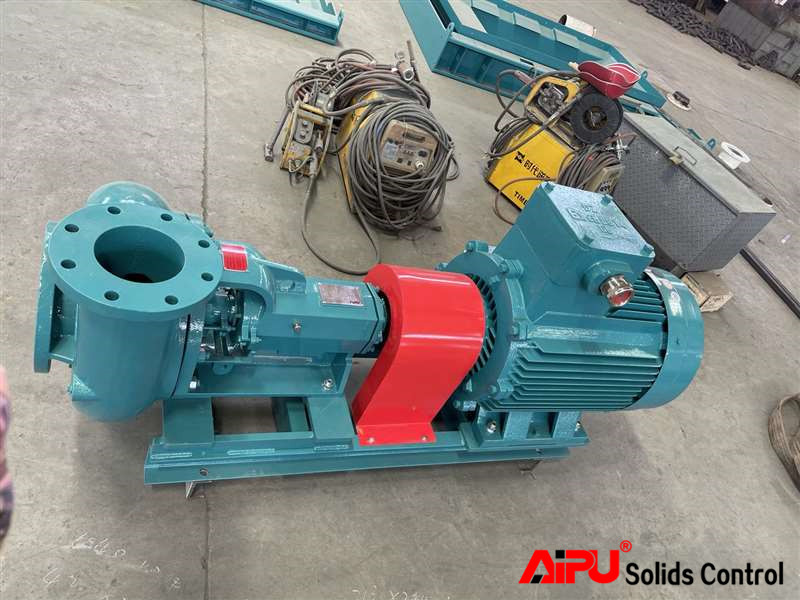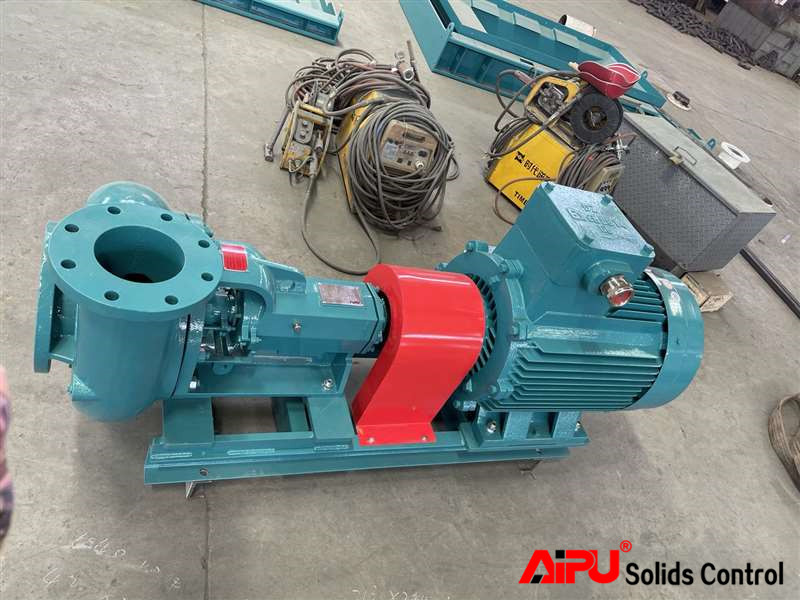 Why Aipu centrifugal pump
We, AIPU focus on the solid control industry over 20 years and we have a professional technical team. As a professional manufacturer of oilfield solids control equipment, AIPU products are appreciated by clients because of high quality at reasonable cost.Trust AIPU solids control will be your strong assistance. Our solutions for you and clients will be the optimal one and lead more reasonable profits. AIPU products have served KDC, Burgan, SINOPEC, CNPC, Honghua, Petronas, Pertamina, and so on drilling company and rig manufacturers. If cooperating with us, you'll find that we are different from other suppliers and you don't need to spend energy time to seek other suppliers
Welcome to consult us for oilfield centrifugal pump. You'll get optimal solution