Jan - 23
2021
Explosion Proof Mud Hopper Unit With Good Sealing Performance And Large Capacity
Mixing hopper unit production
Mud hopper unit is used to concoct the drilling fluids and to change its density and viscosity. Which is the equipment to match with the drilling solids control equipment, generally used for mixind and adjusting the proportion of drilling fluid.With more excellent operation if being matched with shear pimp, and also can be designed to single or double jet mud mixer as the clients requirements.

APSLH series jet mud hopper unit are welcomed by clients for good price and high performance. Also, we have short delivery and many models for you to choose from. Nowadays our mud hopper unit is widely used in oil & gas drilling, horizontal directional drilling, tunnel & microtunnelling, shield construction, etc.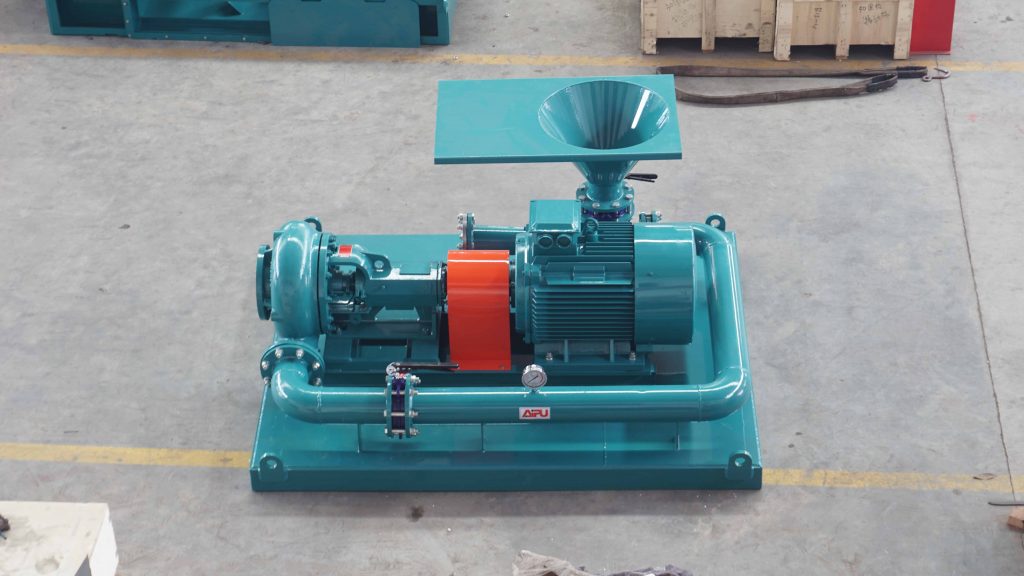 APSLH mud hopper unit characterstics
Complete "dust-free" mixing of material from surge tank and sack slitting machine
High mixing capacity

Able to handle high back-pressure

Economical, simple, robust, reliable and wear-resistant

Venturi-type jet mixer

Jet mud mixer can change the density, viscosity and water loss effectively, and also enhance material dispersion effect, improve the mixed liquid pressure head.

Sand pump and jet mixing hopper can either be combined or be installed separately, and they are connected by pipelines and valves. Seals adopt packing and mechanical double seal, with good sealing performance.

Single jet mud mixer is made up of one sand pump, one jet mixing hopper that are installed in a base with pipe valves. Duplex jet mud mixer is composed of two sand pumps and two jet mixing hoppers.
How to select and what impact mud mixing hopper unit impact
First we shoud confirm treating capacity we need. And for oil and gas drilling kindly suggest 150m³/h flow rate. Then confirm pump,neceddary pipelines and also can depends on suppler suggestion
Mixing hopper hydraulic consumption should be as little as possible, otherwise the flow rate may decrease by too much
Distance between Venturi hopper and nozzle should be proper. The optimal distance should be 32~90mm
Output pressure should be designed properly. If the discharge port pressure is too high the flow rate of mixing pump will be lower than expected
The higher pressure at inlet port the higher flow rate of mixing hopper
The higher hopper mounted the lower mixing capacity
If you have any demand of mud mixing hopper unit ? Please contact AIPU Solids freely. Trust you will get the true cost effective solution at the best rate.