Jan - 15
2021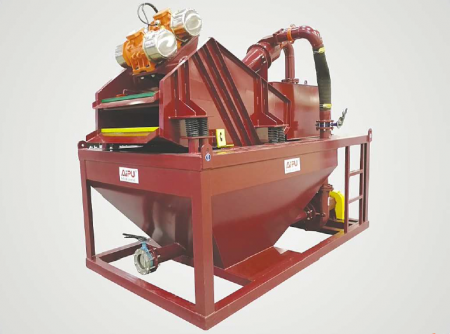 High Quality National Standard Carbon Steel APMC50 100 GPM Mud Cleaning System
A mud system, also known as oil drilling mud system is a control system specially desifned fotr oil gas drilling rigs. The system maintains the solids control and the overall performance of different quipment installed for the drilling fluid. Below we'll main introduction APMC mud cleaning system
Specifications of APMC mud cleaning system
| | | | | |
| --- | --- | --- | --- | --- |
| Model | Capacity | Separation size | Water content of discharge | Power |
| APMC50 | 50m³/h | 30μm | <50% | 18KW |
| APMC100 | 100m³/h | 30μm | <50% | 22KW |
| APMC200 | 200m³/h | 60μm | <50% | 50KW |
| APMC250 | 250m³/h | 60μm | <50% | 60KW |
| APMC500 | 500m³/h | 60μm | <50% | 145KW |
Application and effect
Such mud cleaning system is dedigned for mud purification and recovery of bored pile, rotary drilling rig, antiseepage engineering, core drilling and etc, which can reduce costs and improve constrction efficiency.
Features of APMC mud cleaning system
1. Economic configuration
2. Reduce enviromental impact
3. Easy operation and maintenance
4. Stable and reliable operation
5. Compact structure and small footprint
Aipu solids control offers a complete range of specialist services, making use of current technology to provide clients with a range of competitive
and efficient services.
Aipu solids has involvement in projects both onshore and offshorein areas worldwide. Aipu solids equipments to more than 30 countries in Middle
East, Russia, Latin America, North America, Asia, Europe, Africa and Oceania. Aipu head office is in Xi'an city which is alomost center of
China, and convenient to everywhere by land, rail, sea, air.
All Aipu work is carried our to clients specification and instructions to a standard or code of practice relevent to particular contract. Furthermore,
we are API certified company. Please trust, under talents of Aipu team you will get maximum drilling fluid recover from solids control and
waste management process, and minimum waste management costs.
So if you want to get a better and effective solution or detailed configuration information, please contact us without hesitation.