Mar - 13
2021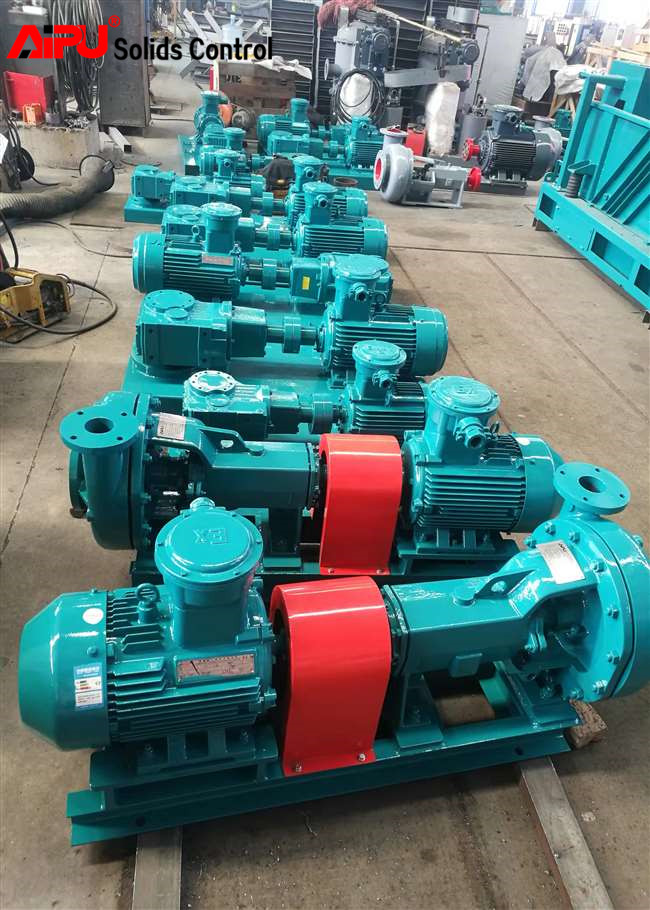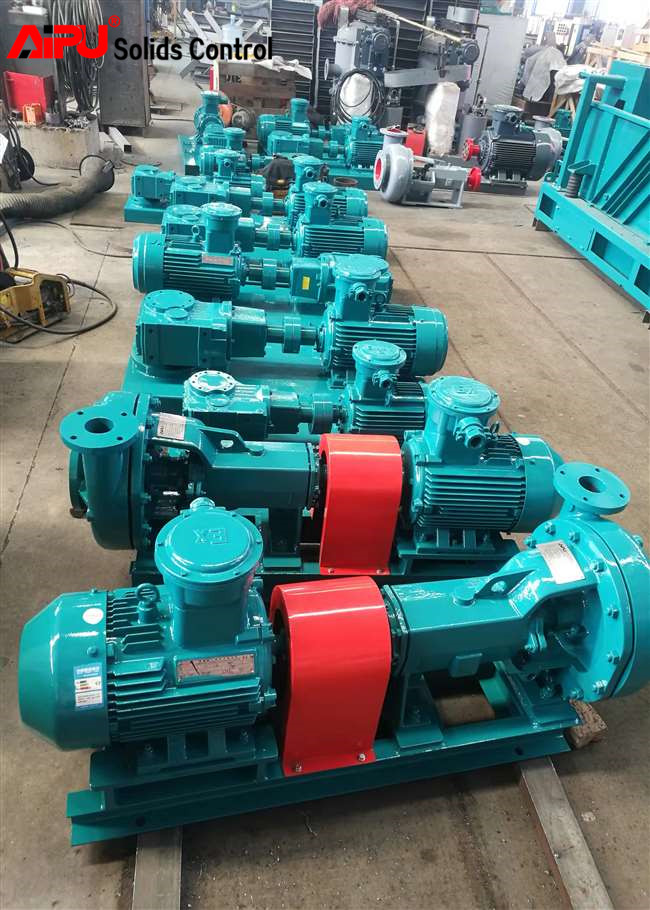 New Batch Of Drilling Fluids Centrifugal Pump Were Delivered For Abroad Project
Just this week, new batch of drilling fluids centrifugal pump were delivered on time
Introduction of drilling fluids centrifugal pump
Drilling fluids centrifugal pump is also referred to sand pump. Drilling fluids pump are widedly used in oilfield drilling equipment and drilling mud equipment llike shale shakers, desansers and desilters etc.
Drilling fluids pump is used for transferring drilling fluid or industrial suspension slurry, it can pump viscous and corrosive liquids by use of modern design theory. Compared with the common pump, our pump is with excellent performance, high traffic, high temperature, long service life, easy maintenance, high reliability and remarkable energy saving characteristics. Now it is widely used around the world on onshore and offshore drilling field. We will provide customers with the best pumps to meet different conditions and requirements.
Simple working principle of centrifugal pump
In the drilling fluid solids control system centrifugal pumps are used as transfer pump.Mainly pump drilling fluid to desander hydrocyclone, desilter hydrocyclone. They also are combined together with mud hopper to be jet mud mixer or mud mixing pump. Pumps work as power transition tool.
General explanation: Like most pumps, a centrifugal pumps convert rotational energy, often from a motor, to energy in a moving fluid. A portion of the energy goes into kinetic energy of the fluid. Fluid enters axially through eye of the casing, is caught up in the impeller blades, and is whirled tangentially and radially outward until it leaves through all circumferential parts of the impeller into the diffuser part of the casing. The fluid gains both velocity and pressure while passing through the impeller. The doughnut-shaped diffuser, or scroll, section of the casing decelerates the flow and further increases the pressure
Applying classical mechanics theory, assuming viscosity of the liquid equal 0 and no energy loss for the work of energy transferring from impeller to the streamlines which means that, all separate flow will be uniforms (this approximations of physical reality to get the simpler as solid state mechanism than hydraulic mechanism
Application of centrifugal pump in solids control
Drilling fluid solids control requests many centrifugal pumps to be fit on mud tanks. According to function, we call centrifugal pumps as sand pumps, submersible slurry pumps, shear pumps, charging pumps, etc. They are defined for their different functions, but their working principle is the same
Usually in drilling fluid solids control there are horizontal centrifugal pump and vertical centrifugal pump. The difference is motor installation direction and pump feed inlet position.
To select either of installation way we need to consider the actual operation condition and general space. Presently, except installation way, there are different types pump on the seal. Mechanical sealed pump are more popular since the stable performance and reliable quality
We may face many different problem during pump operation. Please contact us for further information or support. We Aipu solids control will do come to you with optimal solutions
Drilling fluids centrifugal pump type
Centrifugal pump is well used in drilling mud process system because it's high efficiency, easy maintenance and cost effective. AIPU Solids build a complete line for drilling mud process system as well as all sizes centrifugal pump. Centrifugal pumps mainly have the following types
Mixing Pump: The mixing pump normally 8×6 size driven by 55kw electrical motor to supply mud to mixing hopper for new mud mixing application.
Charge Pump: 1 or 2 set charge pump will sit beside mud pump for charging application.
Trip Pump: Trip pump will sit at trip tank to transfer mud from trip tank into drill hole directly in special conditions. The pump normal driven by 11 or 15kw electrical motor with a 4×3 size pump. The mud flow 200 to 250GPM is enough.
Desander & desilter feeding pump: It is normally 8×6 size pump driven by 55kw motor for 1000GPM mud flow for oil and gas drilling, but 6×5 or 5×4 size pump with smaller electrical motor will be used for smaller mud flow capacity for oil & gas drilling, coal bed methan drilling, horizontal directional drilling or water well drilling.
Water pump: The water pump will set on water tank with water line supply to solids control mud tank. A diesel pump may work as standby incase of fire.
Technical parameters of APSB series centrifugal pump
| | | | | | |
| --- | --- | --- | --- | --- | --- |
| Model | Flow Rate | Head | Power | Speed | Efficiency |
| APSB8x6-14 | 320 m3/h | 40m | 75KW | 1480rpm | 65% |
| APSB8x6-13 | 240m3/h | 33m | 55KW | 1480rpm | 64% |
| APSB6X5-13 | 180m³/h | 34m | 45KW | 1470rpm | 60% |
| APSB5x4-12 | 90m³/h | 30m | 22KW | 1460rpm | 56% |
| APSB4x3-13 | 50m³/h | 40m | 15KW | 1460rpm | 48% |
Please check above technical specifications for your reference. And some configuration is customizable. Welcome to consult us for oilfield centrifugal pump. For any question or demand, just feel free to contact AIPU solids. You will get a professional proposal very soon.