Feb - 27
2021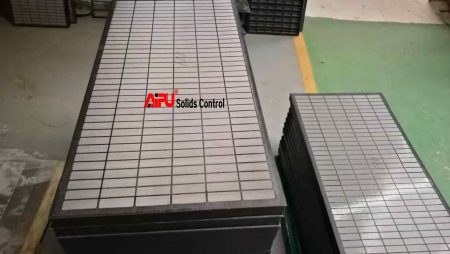 Solids Control Oil Drilling Fluids 585*1165 Composite Frame Shale Shaker Screen
585*1165 shaker screen of Aipu
Aipu is professional manufacturer on shaker screen and necessary parts for solids control equipment and system. Today we mainly introduce the shale shaker screen 585*1165 .The composite framed screen can be black panels and orange panels.
Proud to say, we are able to produce high quality replacement 585*1165 shaker screen. Compared to steel framed 585*1165 screen replacement, the composite ones are more popular. Pleased to say we have made a new development on replacement 585*1165 composite screen. It is more beautiful and lighter than former one. 585*1165 composite screens are popular product at Aipu solids control. Just last week we got order from a regular client. This is the customer's third purchase.
We are appreciating all clients support during past time. Aipu have exported composite 585*1165 screen to many countries. All clients are satisfied with our screen performance. We'll keep going for better service to world clients.
Now, more and more clients prefer the orange coloured ones. They are more bright look more beautiful.Why we call it composite screen? The screen frame is made of high quality PP, Carbon, fibers and so on materials. Also, internal supporting frame is high quality carbon steel welded with tubes and rods
Why we call it composite screens
The screen cloth is stainless steel. Composite screens request simple manufacture technique. Furthermore, composite framed screen is easy to make surface beautiful and even
Shaker screen packages
Usually we pack frame type screen as one panel per carton. For the hook strip screen, we pack two panels in one carton box. No matter it is flat panel or with peaks. We put cardboard on screen panel top to protect the screen surface
And for external package, we put 10-25 cartons into plywood case or onto the plywood pallet. If put screens into cases we'll put a film before laying cartons. If we put screens onto pallets, we'll wrap all pallets completely with film
External packages are with legs for fork lift or pallet truck. According to quantity of screens under certain order, we pack different numbers of screen per package. For example, some clients order 3000 panels of replacement Cobra screen, we pack 30 panels per case
We also consider the container size and loading volume to pack the screens. This will help to use the container most effective and properly
Furthermore, our high quality raw material and our professional experience share in shaker screen over 20 years. Please contact us freely for any demand or interest